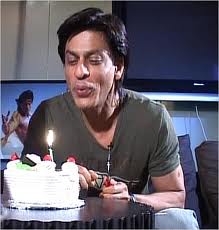 Well, here is some good news for all you Facebook addicts and who are in turn King Khan's fans. The actor after quitting micro-blogging site twitter is right now contemplating it by joining Mark Zuckerberg's discovering Facebook.
King Khan's official page was created last night and he is all set to do the online premiere of his 22-minute documentary on Mughal-E-Azam that celebrates 51 years of the timeless classic directed by the legendary director K.Asif.
Khan is hoping to get support from the central government and other film associated mediums to preserve such timeless classics by creating a forum and use Facebook to reach out to wider audience.
The URL for SRK's homepage in Facebook is www.facebook.com/iamsrk. Using this, the actor will reach out to his ardent fans with live streaming of events, live chat, and special contests. It will also provide songs, interviews, clips and games.
Meanwhile the actor is all set to be back on twitter once again after conformation from Anubhav Sinha, Ra.One director.
Wonder whether Zuckerberg in his wildest dreams would have ever thought of Facebook becoming such a rage especially among eminent celebrities.