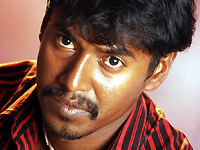 A distinction performer on stage Sathya is in the title role of 'Kiruba'. 'Kiruba' in the jungles is similar to tiger. The protagonist 'Kiruba' also lives in the jungles, uneducated, rugged in his approach. He is a hard nut to crack. He is loyal to the core.  In this forest backdrop story for Sathya there is love and enough of action.
Arpana Prabhu is the heroine. There is another heroine. Ninasam Ashwath is the villain.
Dayakar is making debut as director. He has worked under a few directors. Purusottam is the producer of this film. Peter M Joseph scores the music and Lakshmikanth is the cameraman.
Actor Sathya after marriage has become silent. He was in Aa Dinagalu, Slum Bala, yet to release Rajadhani and Gundrogovi got rave reviews for him but it did not click.