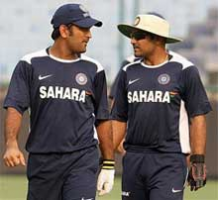 MOHALI: Indian opener Virender Sehwag and skipper Mahendra Singh Dhoni on Wednesday completed their 1,000 runs against Pakistan in one-day internationals during the high-octane second semifinal of the World Cup.
Sehwag hit the third ball of the semifinal off pacer Umar Gul to the cover boundary to touch the 1,000-run mark at the Punjab Cricket Association (PCA) Stadium.
The ball was a touch too full outside off and Sehwag brought his bat down swiftly to crash the ball through the in field.
Dhoni completed his 1000 runs in the 42nd over of the Indian innings, bowled by pacer Wahab Riaz.
The skipper got a thick edge off Riaz on the second ball of the over, which flew past Pakistan wicketkeeper Kamran Akmal, hitting the fingers and bouncing out.
Akmal stretched to dive but could not hold on to the ball.
Two balls later, however, Riaz got the prized wicket of the Indian skipper, trapping him lbw.
Dhoni tried to shuffle to his off as the ball rapped onto his pad, clearly hitting the off stump. Dhoni went for the review but it did not help his cause as all three indicators came out red.
He made 25 off 42 deliveries, hitting two fours. The other five batsmen who have scored 1,000 runs or more in ODIs against Pakistan are Mohammad Azharuddin, Sachin Tendulkar, Rahul Dravid, Sourav Ganguly and Yuvraj Singh.
Batting first after winning the toss, Indian openers Sehwag and Sachin Tendulkar pummelled the Pakistan pace attack, especially the former picking 21 off Gul from the third over of the innings.
But Sehwag's exploits soon came to an end when he was declared leg-before by umpire Simon Taufel off Riaz's bowling. He made 38 off 25 deliveries.