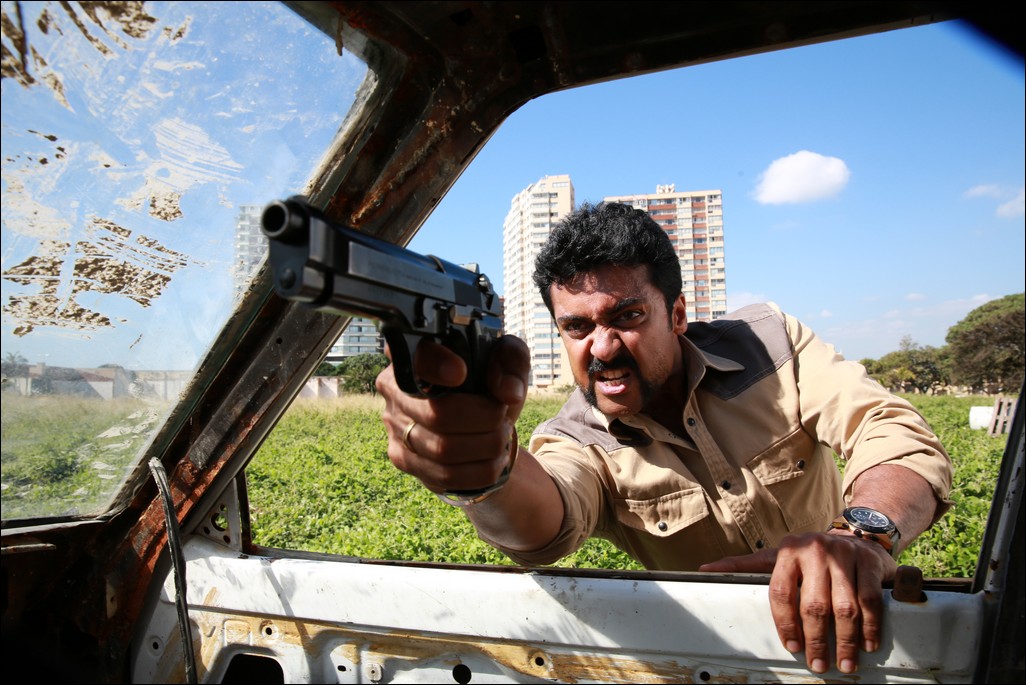 Suriya is one actor on a tough patch these days. With no clear-cut reason, the public loathe him and his movies. Even though he is a dedicated artist, he has become the target for mockery amongst the 'big heroes' club.
Come 2013, and we have Suriya joining hands with Hari for the fourth time, making way for Singam 2, the sequel to the highly impressive 2010 hit, Singam. Produced by Prince Pictures, it has Anushka, Hansika, Vivek, Santhanam, Rahman and Hollywood star Danny Sapani alongside Suriya. Music is by Devi Sri Prasad again, with cinematography by Priyan.
Singam 2 is the continuing story of Duraisingam, as he hunts down a huge drug deal.
Singam 2 kicks off right from where Singam ended. Suriya is now in Tuticorin, an NCC coach in a school where Hansika studies. A series of events leads Suriya gathering info about a drug deal taking place in the area. The first 30 minutes of the movie are bland, and the movie does take its time to unfold. Towards the interval, Hari keeps us pinned with his crisp narration, well thought dialogues coupled with witty one liner comedy from Santhanam and Vivek. The interval bang is spot on, that is one superb scene.
Into the second half, and the movie traverses on jet speed. Hari's thinking works here, as he overlaps the main story with the comic and dramatic scenes. The movie, even though put down by a few speed breakers(songs) and a not-so-great climax, moves on at a good pace and ends convincingly.
Performance wise, Suriya is at full swing, perfect when it comes to dialogue delivery, facial expressions and his 'veri' as a cop. Stunts have been well executed, and he has pulled off some cheeky movements in Singam Dance. What Singam 2 will probably do is put an end to all the negativity on Suriya. This guy has lived the role.Hansika has a fairly mightier role to play than the main heroine, Anushka who has been carved as a glam doll just for the sake of the songs. Vivek is hilarious, while Santhanam does bore you down a bit at times. What Singam 2 lacks is a powerful villain. Yes we have Danny Sapani, Rahman, Mukesh Rishi and Rajendran. But none of them could catch up to Prakash Raj's enthu as in Singam. Supporting artists are apt, most of them continuing off their roles from the first.
If a movie runs for 3 hours, and can manage to keep you entertained, you got to give credit to the director. Even though a little more care could have been taken, Hari must be lauded for his work. Dialogue writing is his strength and he has lived up to it, few lines do prick you up.
Cinematography by Priyan is commendable. One must appreciate the use of chopper cameras at various instances to provide a different angle. Editing is slick barring the long runtime. Stunts deserve a special mention, Anal Arasu and Rocky Rajesh – super work!
Negatives in Singam 2, and we have DSP written all over it. Bad songs, except for Singam Dance which is saved by Suriya's movements, and the BGM too isn't that great. The songs surely broke down the flow of the movie, would be great to chop them off. Santhanam wasn't at his best either, and we have some over-the-top stunts to worry about.
Draw a comparison to the first, and Singam 2 might not beat that. At the same time, it doesn't get bobbed down. It has enough stock to keep you entertained. Go watch it, you'll like it. If you don't, best of luck being a hater.
Verdict : Must Watch. Perfect Time-pass flickfor mass movie lovers & family audiences.
Just tighten ur seat belts a high voltage show waiting for u