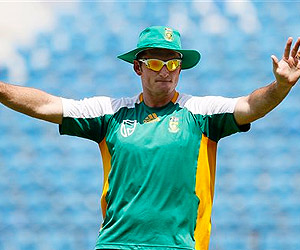 NAGPUR: On the eve of their World Cup match against India, South African captain Graeme Smith exhorted his young team to "challenge the perception" that they are prone to choke in big tournaments.
A batting collapse saw South Africa lose to England in Chennai while chasing 171, giving credence to the belief that pressure gets the better of them in crunch games. Their middle order crumbled on a turning track after South Africa had 124 for three on board. Before that South Africa had marched to two comfortable victories against the West Indies and the Netherlands.
Smith said the team is not reading into what is being made of the defeat against England and they are focussed on the match against India Saturday.
"This squad is keeping the influences out. The spirit around the team is terrific," Smith said.
"Our job is to openly challenge that perception (chokers). The young players in the team have to challenge that perception. We have not won a World Cup or a tournament of note. This is not a point of hiding that," Smith said.
"Coming into the tournament, no one said we were favourites. We became one (a favourite) after two victories. We lose a game and suddenly we are not favourites anymore. What is important for us is that we are working as a group. But it should not be a short term thing or for this World Cup. It should be over a period of time and we are working towards that. I would to like think that our confidence and our strength is powerful.
"We prepare our best and keep giving our best. We keep improving our performances. That is what we are looking to do."
Asked what lessons had been learnt from the England defeat, Smith said: "I don't think our middle order will encounter a challenging wicket like that in the coming games. I don't think it can get worse. The less we talk about that game, the better it is for the team. It is important for the middle order to find energy flow and the rhythm going into this match.
"Hopefully they do in this game and get the confidence back and the top order keeps giving it a good platform."