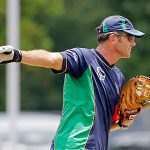 India's Test series with South Africa beginning at Centurion Thursday spiced up with the home coach Corrie Van Zyl reminding the visitors of their poor record here and saying that getting used to pace and bouncy conditions would not be easy.
Van Zyl, however, said they are not 'underestimating' the world's top Test side which is riding high on form.
'They (India) are an experienced team with much depth regarding their batting and bowling, but the record books never lie.'
'We don't pay much attention to what the Indian goals are in the series, but rather concentrate on what is ahead of us,' Van Zyl said.
'This Indian team is not number one in the Test rankings for nothing. They've played very good cricket over the last couple of years and that's why they are number one.
'However, playing in South Africa under very different conditions is something else and that's one of the reasons they came a bit earlier to get used to the conditions,' he said.
India have a poor record in South Africa with just one win in 12 Tests. The victory came here in 2006 when they beat the hosts by a convincing 123 runs, but lost the series, going down in the next two Tests.
Indian coach Gary Kirsten said the current team will draw confidence from their recent form.
'If you look at our performances and results over the past two years, you can understand why we are the number one team,' said Kirsten, a former South African opener.
Van Zyl said it will boil down to who handles the pace and bounce better.
'Obviously, the South African team is mindful of the Indian team. If we think the Indian team doesn't have a bowling attack that can bowl well on bouncy wickets, then we are mistaken.
'Again, it's about who handles the pace and the bounce best. That's what's important and what we will see by the end of the Test series.'
Much has been said about South Africa giving a green top and relying on their fast bowlers — Dale Steyn, Morne Morkel and Wayne Parnell — to do the rest.
'We are not going to give them turning tracks here. That's not going to happen, but we would be stupid to underestimate the Indian bowlers,' said Van Zyl.
'We're going to play on wickets which are going to benefit our style of play, but it is one thing playing on them, it's another thing executing.'
India would be eyeing their first series win in South Africa with a strong batting line-up boasting of Virender Sehwag, Gautam Gambhir, Sachin Tendulkar, Rahul Dravid and VVS Laxman.
Van Zyl said they have not made any specific plans for individuals.
'It's an excellent Indian team which comes to our shores, but as far as individuals are concerned, if you're talking about a very good Indian team, then you can't single out individuals.
'They're not number one because of one individual, they're number one because they're a very good unit. If we're going to look at one or two individuals we're going to miss the boat here. We're making sure that we're not focused on one individual. We're preparing for the whole Indian team,' he said.
He also said that Graeme Smith, who broke his left hand ring finger in the first ODI against Pakistan in the UAE in November, has been cleared to play the first Test.
'Graeme's hand is good. Doctors have cleared him and he's ready to go,' Van Zyl said.
'He's confident and looking forward to this week's preparation. We just hope that we can get out there and prepare.
Hashim Amla, who was struck on the left wrist while fielding on the last day of the second Test against Pakistan, is also fine and began his preparations last week.