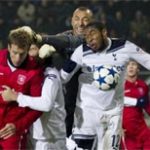 London: Tottenham Hotspur completed their memorable first Champions League group-stage campaign by topping the standings ahead of holders Inter Milan after an exhilarating 3-3 draw at Twente Enschede.
Back in August when Spurs were 3-0 down early in the first leg of their playoff at Young Boys you could have named your odds on them marching into the last 16 as a group winner.
The entertaining north London side fought back in that qualifying match in Switzerland to lose 3-2 and then set the tone for their new adventure by winning the return 4-0.
Three wins, two draws and a remarkable 18 goals scored sent them through to the knockout stage one point ahead of Inter, whose under-strength side lost 3-0 at Werder Bremen.
Tuesday's game summed up Tottenham's appeal to the neutrals as they looked to attack at every opportunity while at the same time leaving themselves vulnerable at the other end.
"We score plenty of goals but we give them away as well. You want to win but it was important we finished top of the group," manager Harry Redknapp told Sky Sports after his side's goals against tally reached 11.
"I thought it was the toughest group and to top it was a great achievement."
Already qualified and with a superior head-to-head record against Inter thanks to their extraordinary 3-1 demolition of the champions at White Hart Lane, Spurs had only to match the Italian side's result to win the group.
They were gifted an early lead when Twente keeper Sander Boschker swung at and missed a backpass by Peter Wisgerhof, with Danny Landzaat levelling from the spot after 22 minutes.