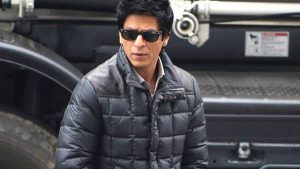 SRK to work with Vishal Bharadwaj in Nadiadwala's adaptation of 'Two States'
This has to be the biggest development of the year as 2010 comes to a close. No one could see it coming, but the fact is that Shahrukh Khan has been signed by Sajid Nadiadwala for the screen adaptation of Chetan Bhagat's 'Two States'. The film would be directed by Vishal Bharadwaj, which is again a first.
Says our source who broke the news, "This announcement is going to shock quite a few. All this while, one had been hearing about Saif Ali Khan to act in the 'Two States' adaptation which was to be directed by Siddharth Anand. Sajid Nadiadwala had the rights and while there was an announcement in this regard a few weeks back, there was some road block as the screenplay was taking some time to shape up."
However, this sudden development means that the film has now taken an entirely new dimension. While Saif and Siddharth (who had earlier collaborated on Salaam Namaste and Ta Ra Rum Pum) are no more associated with the project, a long standing wait of watching Shahrukh Khan in a Vishal Bharadwaj film is also over.
"That's right," continues our source. "For a long time, Shahrukh Khan and Vishal Bharadwaj wanted to work with each other. In fact, there were also rumours of how both of them were upset with each other during one of the films that they wanted to make earlier. There were some creative differences pertaining to the script and both had to part ways as they couldn't converge at a common point."
The duo still didn't give up on the idea of working together. In fact, a few days back, there were also rumours of Shahrukh and Vishal coming together for the remake of 'The Departed'. However, there is a complete turnaround in the proceedings with Sajid Nadiadwala being the producer who has actually got them together and that too for an altogether different film.
"This immediately makes the 'Two States' adaptation as a huge film to be made in 2011. This Chetan Bhagat novel is a hit as well, just like his previous ones," says a trade expert. "In any case, when you think Vishal, you know that it is going to be quality cinema. When such a film maker comes together with SRK, you know that the film would have a definite aesthetic value to it and would cater to mainstream cinema. However, the moment Sajid comes on board as a producer, you know that this one is going to be one big budget commercial masala entertainer. Sajid can't be expected to think any less."
Well, one has to believe the statement being made here. After all, even at the production level, the film would also be collaboration between Sajid Nadiadwala and Shahrukh Khan as Nadiadwala Grandson and Red Chilles Entertainment would be jointly producing this film.
Now this is indeed a coming together of 'Two States'!