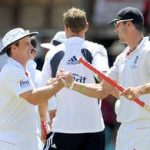 England captain Andrew Strauss hailed a "clinical" performance by his side against Australia in Adelaide.
Having dismissed the Australians for 245 in the first innings and then romping to 620 for five declared in reply, England remained brutal in the attack as they claimed the six wickets they required to dismiss the hosts for 304 before lunch.
The victory by an innings and 71 runs was a devastating display, and spinner Graeme Swann was again the pick of the England attack, claiming five for 91 as Ricky Ponting's Australia crumbled.
England now lead the best-of-five series 1-0 heading into next week's third Test in Perth.
"We were pretty clinical in everything we did in this game," Strauss told Sky Sports 1.
"Bowling them out for 245 on the first day was an outstanding effort, and then we didn't let them back into the game.
"A lot of boxes were ticked in this game and we're pretty happy with our performance.
"We're always conscious that if you start patting yourself on the back too much in cricket it comes back to haunt you, but we're going to enjoy tonight – we deserved the victory – but that Perth Test match is even more important now."
Strauss added: "When you're confident things start happening for you as a matter of course. You don't have to force the issue too much."
Kevin Pietersen's 227 was the cornerstone of England's batting effort, and Strauss felt it was a performance that had been coming.
"He's been threatening to play like that for a while, certainly all through the warm-up games, there just looked to be a bit of a swagger about him and he was seeing the ball well and early," he said.
"It's great for us, because when he is on song he dominates bowling attacks, and not many players can do that."
Man of the match Pietersen warned England should not get carried away by this victory, however.
"Australia are a formidable team here in Australia and we're only 1-0 up in the series and there are still three Tests to play – anything can happen in those three Tests," he said.
"Australia are going to get better and we're going to have to play better cricket going into Perth and Melbourne and Sydney, because normally an England team doesn't finish off a series too well, so we've got to make sure we've got out heads on.