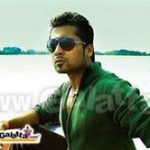 For years, Ram Gopal Varma has been working on Raktha Charitra, a story about the life of Paritala Ravi, prime suspect in many murders. At last, the story will be narrated on celluloid. The movie stars Vivek Oberoi, but the sweet news for South Indians is that Suriya has been cast in a pivotal role! The film is a trilingual made simultaneously in Hindi, Telugu and Tamil.
Now the latest news is that Tamil superstar Suriya is in Mumbai to shoot for Rakta Charitra. Reportedly the actor is learning Hindi to dub in his own voice> In a leading English daily, he said, "I have an assistant to help with my Hindi dialogue. I like to say my own lines. I did have a teacher in Chennai but that bookish Hindi won't work in films."
Revealing more on the project, he said, "When he (RGV) narrated this script to me, I thought I must be part of this project. Also there would be Tamil and Telugu versions. So I thought I'd get a chance to simultaneously be on home ground and try something new."
Rakta Charitra will have actor Vivek Oberoi as rebel-turned politician Paritala Ravi, one of the most feared individuals in the blood-ridden faction politics of South India. Suriya will play the role of Maddalcheruvu Suri, Paritala Ravi's opponent. According to sources, Suriya's role is almost equal to that of the lead protagonist.
Ram Gopal Varma's script reportedly lasts for about five hours on screen. Hence, he divided the theme into two parts: Rakta Charitra 1 and Rakta Charitra 2. While the first part shows the rise of Paritala Ravi from forest to ballot, the second part deals with how he was trapped in the conspiracies of opponents.
When asked about the Bollywood experience, Suriya said, "Bollywood has enough talented actors. I don't think I'm needed here. Rakta Charitra required only 30-40 days of my time, so I could manage. I do have my commitments in Tamil cinema and I can't give them up. Here the way of working is entirely different. I don't know whether I can fit in. I don't think I'd want to do run-of-the-mill Bollywood films."
Rakta Charitra is produced by Madhu Mantena; Mani Sharma is the music director. The film also stars Shatrughan Sinha, Priyamani, Radhika Apte, Subrat Dutta, Ashish Vidyarthi, Sudeep, Zarina Wahab, Raj Babbar and Ranjeet