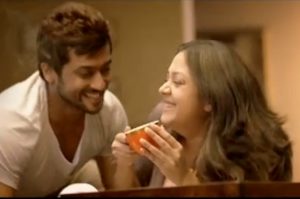 Fans will have a reason to rejoice, very shortly. Celebrity couple Suriya and Jyotika, who were last seen together in 'Sillunu oru Kadhal Kadhai', will be featuring together to endorse Nescafe Sunrise.
Nescafé Sunrisé Premium will now be endorsed by Suriya and Jyotika who are one of the most celebrated cinestar couples. The advertising for Nescafe Sunrise is developed around the celebrity couple and brings them together on screen after many years.
The teasers for the new campaign are already on television, outdoor and in print. The two part television commercial that goes on air on March 12 peeks into the real life of Suriya and Jyotika to see the romance that SUNRISE creates in their lives.
Says Suriya, "When Jo and I did the television commercial, we didn't need to act. The emotions were genuine and came naturally". Very true!