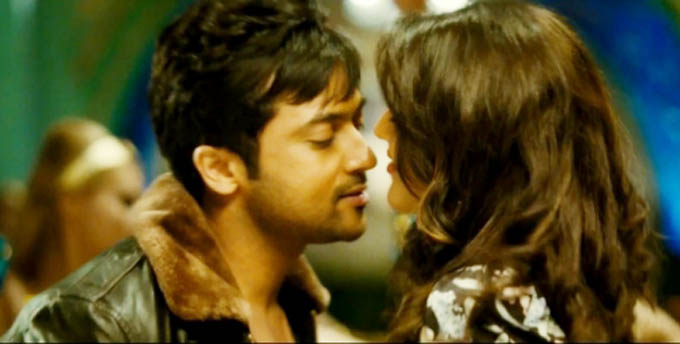 Superstardom sits easy on his capable and very wide shoulders. He is a towering phenomenon that movie business has finally come to terms with and the worldwide gross box-office collection of his films in the last five years tells an astounding story. Things changed after the historic opening and record breaking collection of Ghajini and ever since there was no looking back for Suriya.
After his last release 7 aum Arivu, Suriya went into hiding and now he is back with a bang with KV Anand directed Maattrraan releasing big on Oct 12 worldwide. Suriya's perfection lies in his ability to re-invent himself every time he embarks on a new film.
Speaking exclusively to Sridevi Sreedhar from Thuthukudi where he is shooting for Singam-2, Suriya opens up..
Are you tensed, before the release of your films? What is your state of mind as Maattrraan releases this Friday?
( Smiles) I am calm and relaxed. The script of Maattrraan took four years to be honed and the entire team gave almost a year and a half to complete the film. A lot of hardwork has gone into the making of the film and I hope the audiences will be satisfied. It will be a more mature film than Ayan, which is more emotional and entertaining.
How did the seed of conjoined twins evolve?
While I was shooting for Ayan with KV Anand, he narrated a one-line story of a conjoined twins and I got hooked. But let me make it clear that the film is not all about conjoined twins and when you watch the film and come out, there are lot of other things which will stay in your mind. It is just that the conjoined twins are a part of the story.
Was it physically demanding to play such a character?
It was.. Though we are conjoined, our interests and character are totally different. If Akhilan likes Cricket or yoga, Vimalan likes football and gym. We are friends with different interests and so to bring out the emotions of two characters while we fight, dance or romance was not easy.
You seem to share to great rapport with KV Anand. Please comment?
I am a director's actor. KV Anand is the most hardworking director I've ever worked with. He pushes himself to the brim, does a thorough research, enjoys what he is doing and motivates you. In Maattrraan, he along with writer duo Subha worked hard on the screenplay and pace of the script. There will be a lot of mystery, twist and unpredictable turns with no loose ends and logic in place. It was a great experience to work with Anand once again.
Karthi dubbed for one of the twins in the film?
It must be perhaps for the first time that two brothers dubbed for twin brothers on-screen. I can't stop thanking Karthi for taking the effort. I can't say if I would have thought and done something like that for him. He saw the film and volunteered to do the dubbing in Telugu and for one of the twin brother in the Tamil version which will be a highlight.
A lot is riding for you on Maattrraan…?
Maattrran will satisfy you (smiles) and it's like watching two different films in different genres. I worked for almost 170 days of shoot plus 60 days of CG work. Even after the film was over, after seeing the rushes I decided to re-shoot some portions for perfection and gave extra days to dub.
Harris has given some extraordinary songs, Soundarrajan's camera is superb and Srinivas Mohan who did Sivaji and Enthiran has done an amazing work with CG and special effects. I think, I've done my best.
The trade buzz is that Maattrraan has been sold for the highest ever price in recent times. Please comment?
I do not want to comment on the numbers and figures. But let me assure you that the producers, AGS Entertainment has done a great job in marketing the film successfully.