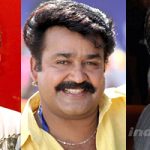 The combination looks too good to be true. But the south Indian audience can get ready to see Tamil super star Suriya, Hindi super star Amitabh Bhachan and Malayalam super star Mohanlal all in the same film.
Major Ravi who is known for films with armed forces background is making another film based on the Kandahar Indian Airlines flight hijack incident which rattled the nation in 1999. For this film he is said to have signed Suriya and Amitabh to play important roles along with Mohanlal. Suriya who is very popular is Kerala as much as he is in Tamil is said to have impressed by the commando story immediately allotted the required dates. He already has the experience of playing a commando in 'Varanam Aayiram'.
The movie will be a bilingual made simultaneously in Tamil and Malayalam and will be shot in Kerala, Delhi and Nepal. Major Ravi's most recent outing in Tamil was his Keerthichakra's Tamil version 'Aran' in 2006 which starred Mohanlal, Jeeva and Gopika.
If this casting gets through that would be a sort of a coup not attempted before.