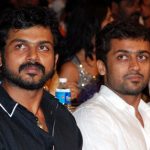 During the success meet of Kola Kolaya Mundhrika, actor Sarath Kumar mentioned that Bollywood films are doing well because of the heroes coming together without any egos. Since Tamil films are not doing well, Sarath Kumar said that it is all because of it. Hearing the request of Sarath Kumar, Surya and his younger brother Karthi have decided to come together on the screen.
They are planning for a film that has scope for both of them and soon the other details about the technical and actors team will be announced.
Karthi is busy with Naan Mahan Alla and remake of Vikramakudu and Surya with 7 AUM Arivu.
Sooner there maybe some good news from these brothers and let them begin a new way in Kollywood leading other actors to act together as well.