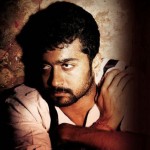 Surya's upcoming film Rakta Charitra will release on October 22. As known earlier, both Telugu and Hindi versions will be released as Rakta Charitra – 1 & 2.
Rakta Charitra – 1 will focalize on the story of Parithala Ravi, a gangster turned politician in the village of Ananthapuram while the latter part is about Bengal-based Maddelacheruvu Suri, who plots murder plans against Ravi while staying inside a prison.
Rakta Charitra audio launch of the Tamil version was recently held at Sathyam Cinemas in Chennai with Mani Ratnam releasing the music. All the crew members including Bollywood Superstar Shatrughan Sinha were present at the occasion.