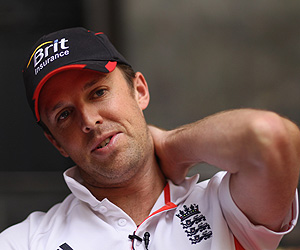 CHENNAI: England off-spinner Graeme Swann, who was fined for using "abusive language" against one of the on-field umpires in the match against Bangladesh, admitted it was due to frustration in bowling with a wet ball in a day-night game.
"It was quite a shame as to what happened and also about my own behaviour. It was the frustration that the ball was getting wet due to dew."
"There was nothing personal against the umpires. I apologised almost immediately. It was unintentional."
Swann termed the lengthy ICC schedule as "ludicrous" but refused to use it as an excuse for their poor show in the tournament so far.
"Most of the other teams in the world shared the ludicrous schedule that we did. We can't say that we were singled out. Although it's not an excuse for not doing well.We are all fit enought to get on with the game. Its just like I say a ludicrous schedule most teams share," Swann said ahead of his team's last group league encounter against the West Indies on Thursday.
"All things considered, if we win the next four games, we win the World Cup. There is no point in dwelling on the two games we have lost. Also the game against India, we should have won from the situation where we got ourselves," he told the mediapersons here on Monday.
"We tend to play well against bigger teams and when it really matters. It's obviously the biggest game in the tournament for us up to this point. And normally, that brings the best out. Hopefully, we can get both facets of the game – batting and bowling."
When reminded of England's T20 exploits and asked whether they would be able to replicate that form, he answered, "I suppose so. It's something we are looking forward to. But in the World T20, we were more consistent than we have been here.
"We didn't start fantastically well. We were genuinely hampered by weather there. That's the model we are looking to copy in this World Cup. There is no point in crying over spilt milk and the two games that we lost. We need to win four big games now and return home victorious," he added.
The offie maintained that despite defeats against Ireland and Bangladesh, the morale of the team is still pretty upbeat.
"It has been a long winter, but there is no point in whining and moaning about it. There is light at the end of the tunnel. We are looking forward to a must-win game come Thursday."
Dwelling on the confidence factor, he said, "We played better cricket in last two years in patches in ODI cricket. We know we can beat anybody. We have proved that by beating South Africa and the way we played against India. It is a matter of getting both facets (bowling and batting) of the game together. The team is very confident," he added.
Swann feels that the absence of Kevin Pietersen won't be a big factor.
"I don't think it's about the absence of individuals. Just that we haven't been able to manage both facets of the game. We had done well in the Test match arena over the last three months but in ODIs, we are still searching for that."
On the team balance for the match against the West Indies, he indicated England might go in with two spinners if the pitch was similar to the one they played against South Africa.
"Hopefully yes… Certainly I hope the wicket is similar to the one we played against South Africa. I think it will be crazy not to play two spinners, if the wicket is like that."
Swann admitted that it was frustrating to get into a position where the outcome of other matches matter for qualification like in Group B now. If England lose their match against the Windies, they are virtually out and will have to wait for the outcome of other matches in the group.
"It is certainly exciting to be in a group like us. It it is still very open. The fact that you know you are not in a position to decide your own fate. Had we scored one more run against India, we would not have been in this position."
Asked which West Indies player would be difficult to bowl at, he named Chris Gayle and Kieron Pollard as the two dangerous players.
Asked if the players were frustrated because of the fatigue factor, Swann said, "I should think six or seven of the Test nations could all do with a six-week break here or there. It's just one of the things the way the World Cup falls always after the toughest winter we had to play.
"But there is no excuse, it certainly is not the reason for us not playing well. We are all fit enough to get on with the game. It's just like I say a ludicrous schedule most teams share."