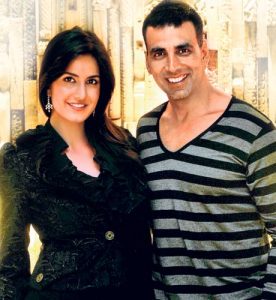 'Tees Maar Khan' is pretty much turning out to be a film which would forever give rise to debates, arguments, speculations and hearsay. What else explains the fact that even though two months have gone by since the arrival of this Christmas 2010 release, it is dragged into every conversation whenever the box office economics (and their outcomes) of some of the biggest films from the year gone by (and the ones that would follow) are discussed.
"Everyone expected the film do business on the lines of a 'Dabangg' at the least, if not '3 Idiots'. Revival of 'masala' films had made many believe that due to the Akshay Kumar and Farah Khan combination, the box office would jingle like never before, especially due to the festival release. It did open to a very heartening note as well but went down after audience reaction wasn't as favourable. However many seem to be missing the bottom-line and it is that the film did eventually earn money for it's investors," says a highly placed source from the film's production team.
However such high was the backlash meted to the film that terms like 'disaster' and 'debacle' have been tagged to 'Tees Maar Khan'.
"Some of the biggest money spinners from UTV have been 'Race', 'Taare Zameen Par' and 'Jodhaa Akbar'. Now while each of these has been termed as a hit, how many know that 'Tees Maar Khan' has actually made more money for them than any of these aforementioned flicks? The production house too is silently watching all the 'tamasha'; after all they have made a neat profit," continues the source.
Meanwhile Farah Khan has moved to scripting her next, Shirish Kunder is already directing 'Joker', Akshay Kumar has 'Thank You' to look forward to and UTV has just released 'No One Killed Jessica', 'Dhobi Ghat' and '7 Khoon Maaf'. Though one may insist that 'Tees Maar Khan' has come and gone, there are voices that continue to haunt the film.
"Well, one can't do much about such voices, can one," says Siddharth Roy Kapur, CEO of UTV Motion Pictures, "We have been transparent about our collections. We co-produced the film at a budget of 55 crores, with print and publicity the total cost went up to 67 crores. Between India and overseas theatrical rights the film netted over 75 crores hence leading to distributor share of around 45 crores worldwide. Sale of satellite and music rights fetched us a further 30 crores. In addition home video and all other rights accumulated to 5 crores more, totalling up to 80 crores. Usually in an industry with such low success ratios, when you produce something for 67 crores and make 80 crores on it, it's called a success."
He agrees though that the film didn't meet the expected appreciation. "Certainly, I am not even debating the critical value and quality of the film. But then hasn't that been discussed, debated and buried at the time of the release itself? You wanted to know about the business and I have spoken to you just about that."
Well, that should change one part of the perception at the very least.