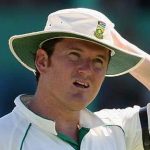 Johannesburg: South Africa captain Graeme Smith had termed Sachin Tendulkar as "great ambassador of the game" and said his desire to become a cricketer got wings after watching the Indian batting maestro during his childhood.
Smith was a 11-year-old kid when Tendulkar first toured the Rainbow nation following the country's readmission to the international fold after decades of isolation because of apartheid.
But on Thursday, Smith will lead South Africa in the first Test against India at Centurion in what could well be Tendulkar's last tour to the country.
"He (Tendulkar) is a world class player and a great ambassador for the game," Smith said as he reminisced at an official reception for the Indian cricket team here last night.
"As a youngster I watched the games and that's where all my dreams started. You see the players (like Tendulkar) on TV and you think that I want to be like that one day, and here we are," he said.
India is presently touring South Africa for three Tests, five ODIs and one-off Twenty20 International.
Smith also lauded former South Africa opener and now India coach Gary Kirsten, saying he commands great respect in the cricketing fraternity.
"Gary (Kirsten) was one of my heroes while I was growing up, so obviously it was great to get the opportunity to play with him," he said.
"He's a guy that I respect a hell of a lot and I'm sure the Indian team itself respects him. That respect will also go onto the field. It's about playing well for South Africa, but that respect will always be there," the Protea skipper added.
India speedster S Sreesanth too was full of praise for his coach.
"He's (Kirsten) been a great motivator and a great friend to each and every player," Sreesanth said.
Sreesanth described as "spot on" Kirsten's recent comment that India could be a world class team only if they beat South Africa on their home turf.
Sreesanth spoke for the Indian team during the function after captain Mahendra Singh Dhoni opted to send the Kerela speedster up on the dais to join Smith.
He also said India will be benefited in the series by some of its players' previous experience of playing in South African conditions.
"I did not play play in the Champions League but other team members have played. They know how to acclimatise with the conditions.
"Dhoni lead Chenai Super Kings to Champions League title here earlier this year and he had also helped us in our preparation," Sreesanth said.