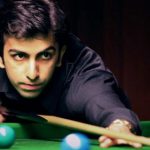 New Delhi: Ace Indian cuest Pankaj Advani stormed into the quarterfinals of the IBSF World Snooker Championships after defeating Mohammad Rais Sen Zahi of Afghanistan 5-2 in Damascus, Syria.
Advani, who won the billiards singles gold in Asian Games last month, won 60-40, 110(109)-15, 114(114)-0, 73-69, 0-73, 41-68, 68-21.
In the quarterfinals, Advani will take on Malaysian Moh Keen Hoo who defeated Duncan Bezzina of Malta 5-1 in another pre-quarterfinal match.
Advani had topped Group E by winning all six matches and then got the better of Mohammed Joaker of the UAE 5-4 in the knock-out stage round of 32 match.
In the women's draw, India's Vidya Pillai beat compatriot Chitra Magimairaj 4-0 to move into the semifinal where she faces Ng On Yee, who defeated another Indian Anuja Chandra 4-2 in the quarterfinals.
Vidya beat Chitra 63-43, 73-02, 75-05, 60-40 while Anuja lost to Yee 07-65, 54-49, 06-77, 102(52)-19, 49-54, 75-40, 40-53.
More than 200 players are participating in the championship regarded as the most prestigious amateur snooker tournament in the world.