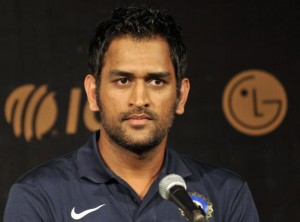 Having triumphed in the 2007 Twenty20 World Cup, Indian skipper Mahendra Singh Dhoni is on the threshold of holding the second trophy under his captaincy. "It is a big game for us. We want to end the tournament on a good note. Irrespective of what the result is I am proud of the team I have. It is a special side," said Dhoni on the eve of the final here on Friday.
The Indian skipper admitted that the India-Pakistan match had drained the team mentally and physically," he said, adding they were able to relax for two days after the match.
Dhoni said the team has tremendous potential to come good in the final. "There's plenty to come. Still we have done quite well in the tournament," he said.
About the home jinx where hosts team has never won the World Cup, Dhoni said: "Each and every individual knows his role and responsibility. That has helped each other perform. It is the result which makes the team good."
The Indian skipper said, the format of the tournament helped us to get into the groove. We peaked at the right time and we continued with that."
The captain hinted that Shantakumaran Sreesanth may play in tomorrow's match instead of off-spinner Ravichandran
Ashwin. "You see the wicket and play the best eleven. Sree has done well for us at most of the games he has played. He is one character who can definitely swing the ball and get you early wickets". But asked if he can control Sreesanth, Dhoni said "One person who can control Sreesanth is he himself. It is quite behind my control. He is excited when it comes to big games," said Dhoni, adding that "if he is playing, he will be in a good frame of mind."
Dhoni further elaborated that the Mumbai track may help the seamers. "If you see the Mumbai track, it has bit of pace and bounce for the seamers initially and there will be bit of reverse swing," he said.