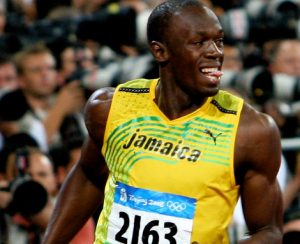 Usain Bolt finally permitted the world to acclaim him as a sporting legend after the supreme showman of track and field delivered another superlative performance at the London Olympics on Thursday.
Bolt danced around the bend in the men's 200 metres final, accelerated past Yohan Blake on his inside and glanced quickly to his left to check he was ahead of his Jamaican team mate.
Satisfied he had the race won, he sauntered over the line with his right index finger held high. His time of 19.32 seconds equalled the then world record set by Michael Johnson at the 1996 Atlanta Olympics which statisticians estimated would last another quarter of a century.
Instead Bolt reduced it to 19.30 at the 2008 Beijing Olympics and then to 19.19 at the Berlin world championships the following year. He also broke the 100 record twice.
Last Sunday Bolt joined Carl Lewis as the second man to retain the 100 title but said he would defer any talk of legends until he went one better than the American and successfully defended both sprint crowns.
There were no such inhibitions on Thursday after Bolt led Blake and Warren Weir to a Jamaican clean sweep. The United States, the traditional giants of Olympic sprinting, are the only other country to win all three medals in a single Games.
"It's what I came here to do, I'm now a legend," Bolt said after a joyous victory lap with Blake and Weir during which he acknowledged the tumultuous applause from all parts of the Olympic stadium.
"I'm also the greatest athlete to live. I am in the same category as Michael Johnson. I'm honoured. It's all about Michael Johnson for me. I grew up watching him break world records. He's a great athlete."
Bolt made his early reputation as a 200 metres runner and coach Glen Mills, who took charge after injury ruined Bolt's 2044 Athens Olympics campaign, was keen for him to try the 400.
Instead Bolt persuaded Mills to let him drop to the 100, which he did with spectacular success with his world records in Beijing and Berlin.
Johnson, who won the 200-400 double in Atlanta and retained his 400 title at the 2000 Sydney Games believes Bolt could go where no man or women has ever gone and set a world record in the 400 to add to his 100 and 200 marks.
Bolt has said repeatedly that both training for and racing the 400 would be too painful an experience but he did concede this year that a further debate with Mills is on the cards after the season ends.
"I sense that my coach wants me to run it, I think we are going to have a showdown after the season," he said.
First Bolt will help his team mates try to retain the 4×100 metres relay title.
The final is scheduled for Saturday evening, the penultimate night of the Games. Victory for the Jamaicans would give Bolt six Olympic track medals, one ahead of Lewis who also won four long jump titles.