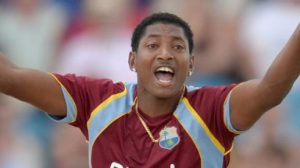 The 29-year-old, one of several changes to the West Indies team for the two-match series at Windsor Park, said Thursday that clever bowling would be important for success in the game`s shortest format, reports CMC.
"I`ll always be watchful of the batters, that`ll be the main thing. On occasions, depending on the situation, you might have to change things after a game. I have been working on more variations in the nets, nothing in particular but just a few simple things," the Jamaican left-arm seamer said.
"What I bring to the table is variation because in T20 that is the key. Regardless of what pitch you play on or where in the world you are, variation is the key and that`s exactly what I bring to the team, and so far so good," says Santokie who plays for Mumbai Indians in the Indian Premier League (IPL).
Santokie has been joined for the T20 doubleheader by fellow short-game specialist Kieron Pollard, Andre Russell, Dwayne Smith and Sunil Narine, in a squad captained by Darren Sammy.
West Indies, the 2012 T20 World Cup champions, will start as favourites, and Santokie believes the team is strong enough to deliver positive results.
"We have some good players. Pollard is back and we have Narine back and he is the number one bowler in the world," he pointed out.
"The fans can look out for some good cricket and we will be coming all out to win."
West Indies suffered a major setback by losing the recent Test series 2-1, after New Zealand trounced them by 53 runs in the decisive third Test at Kensington Oval Monday.
That victory would have given the Black Caps side – unchanged for the T20 series – much confidence, but Santokie said the West Indies should approach the game without getting under pressure.
"The New Zealand team has good players, but we just have to take it just like a normal game. I haven`t played Twenty20 for a while so it`s just for me to get back into my groove," he said.
"You`re not going to take anyone lightly because they are world class team but we`ll look to play positive and think positive.