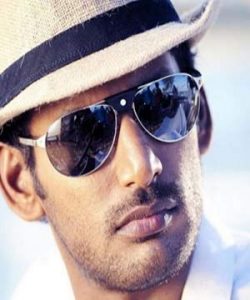 Vishal is in plans of changing the image of director Bala. Why he had taken this decision, let us take a quick look at the story.
During a press meet Vishal was asked on how he managed to work with a peculiar person like Bala. The actor answered that he too has the same opinion about the director and in fact many of his friends including his brother Vikram Krishna has the same doubt. Even Vishal was doubtful in approaching Bala but however he decided to star in his film as he is a genius in making films. It was while shooting he understood that all of them had a wrong impression on him. This made Vishal to plan for the change of Bala's image.
Vishal has asked Bala, why people think you behave like a psycho, for this Bala offhandedly replied: "If I am a psycho then people who call Psycho me are also psychos."
Vishal wants to change the image of Bala at any cost as the people in Andhra too have the same feeling on him.