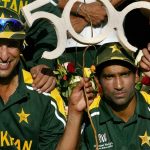 Former Pakistan cricket captain Wasim Akram has urged players, fans and the media to move on from the recent problems plaguing Pakistan cricket, and back the country to win the World Cup 2011, though he tipped India as favourites to win the mega event.
"Let"s forget what problems we"ve been going through recently and with a positive frame of mind support the Pakistan team to win next year"s World Cup," The News quoted Wasim, as saying in a rallying call during the trophy- unveiling ceremony.
Wasim, who finished as the best player of the tournament when Pakistan won its only World Cup in Australia 18 years ago, acknowledged that problems had "certainly hurt the team"s preparations, but Pakistan is one team which can beat any team in the world on its day."
"Their resilience is tremendous and they can come out of any worse situation and win a match," he added.
He praised the team for showing "great resilience" by winning two of the five matches against South Africa last month.
"They could do the same in the World Cup provided players, selectors and the PCB rally behind the captain and play for the country," he said.
"For the sake of Pakistan, every player has to back the captain, play as a unit, and not only fans, but the media should also back them to win," the former skipper added.
Wasim tipped India as favourites to win the mega event, which is to be hosted jointly by Bangladesh, India and Sri Lanka.
"I think for the first time Australia will not be the top favourites," said Wasim. "To me, India is the top favourite to win, while Sri Lanka and Pakistan are also among the favourites."