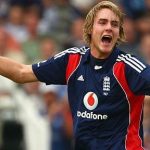 England fast bowler Stuart Broad has sustained a torn abdominal muscle injury during the fourth day of the Adelaide Test, which will keep him out of the rest of the Ashes series.
England medical officer Nick Peirce said the nature of the injury meant Broad would be ruled out of the rest of the tour. He will fly home this week for a course of rehabilitation.
The injury will also keep Broad out of the one-day series that follows the Ashes, but he is expected to have fully recovered by the time of the World Cup in February.
"Playing for England in an Ashes series in Australia has been something I've dreamed of for a long time so to have that cut short by injury is devastating," The Independent quoted Broad, as saying.
"So far the series has been everything I had anticipated and knowing I'll play no further part is quite hard to take. Given the way we had started the series I was looking forward to playing a leading role in England retaining the Ashes but that's not to be," he said.
"Injuries happen and there's nothing I can do about it other than make sure I get stuck into rehabilitation
and come back stronger in time for the World Cup next year. This winter is a big one for the England team so my focus will have to shift to preparing for the World Cup," Broad added.