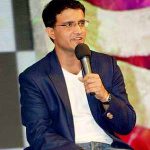 The new look Team India under Gautam Gambhir might be on a roll at the moment but it would be a different experience at the World Cup and a series in South Africa would be an ideal preparation, former India captain Sourav Ganguly said.
The southpaw also reiterated that his first preference will be Kolkata Knight Riders although the Ganguly would be up for auctions.
"It was nice to see India winning under new captain (Gautam) Gambhir. But World Cup will be a different experience. Every win is good for the team (to get the momentum)," he said.
"We have a very tough away series in South Africa. It will give them an ideal preparation ahead of the big tournament (here in February-April next year). Indians are used to the playing condition here so I believe South Africa series will be very crucial. It's easier to come back from a tough tournament. I hope they do well in South Africa," he added.
Sourav Ganguly On the speculation that he might not be retained by the SRK-owned franchisee, Ganguly said, "I've played three years with them so obviously there is an attachment. KKR will be my first preference."
"But it does not depend on me. It's up to the franchisee, let's see what happens at the auction. I'm yet to have a word with Shah Rukh Khan on this.
"If I'm not retained then there is always an option of getting picked by any other team at the auction. But I am keen on playing the tournament… I believe there is some cricket left in me," he added.
The Bombay High Court had earlier extended the date for IPL teams to submit list of retained players from December 6 to December 8.
Each IPL franchisee can sign up four players from its earlier season's squad.
Following his tremendous form in the ongoing series against New Zealand , Virat Kohli might have been seen as a future Indian captain but Ganguly said the Delhi youngster has to wait.
"It's too early to say that he can be a future Indian captain. With great cricketers like Virender Sehwag and Gautam Gambhir ahead of him, he has to wait," he said.