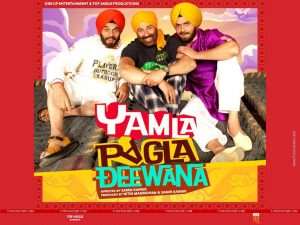 Deols haven't hit the dance floor as hard as they are doing today. It's time for a riotous 'bhangra' and some 'balle balle' with 'Yamla Pagla Deewana' doing superb business. The first week of this Samir Karnik film has been a huge 35 crores which is the best that Sunny Deol and Bobby Deol have seen after ages.
Business of 'Yamla Pagla Deewana' so far is on the same lines as 'Wanted' which was a much bigger success in single screens when compared to multiplexes. The 'masala mix' feel of the film has been lapped up by the masses and despite the cold wave up North; the film is huge in Punjab, Haryana, Delhi and Uttar Pradesh amongst other states in and around. Of course Mumbai hasn't been as strong but no one would be complaining as overall the all-India results come with a huge thumbs-up sign.
The best part about 'Yamla Pagla Deewana' is that it hasn't stayed on to be a one weekend wonder. The film has sustained itself well not just right through it's first week but also done remarkable business in the second weekend with a business of close to 9 crores. This is almost the same as what 'Dobhi Ghat' has done in it's first weekend.
The way this all-Deol affair is going at the box office, 'Yamla Pagla Deewana' should comfortably touch the 60 crores mark. This means that for Sunny Deol, this would be his biggest grosser close to a decade after 'Gadar-Ek Prem Katha'. As for Bobby Deol, this would be his first 50 crore plus grosser of his career.
On the other hand it was a huge thumbs-down for 'Turning 30' which couldn't make any impression whatsoever at the box office. The film has turned out to be a washout and failed to even find any screen space for itself in it's second week. One feels particularly sad for Gul Panag who has been trying to make a niche for herself in female oriented films but not to much avail. What surprises though is the fact that Prakash Jha, despite producing the film, didn't offer any front foot forward to promote it extensively either though the PR machinery or via his own standing in the industry.