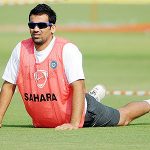 Centurion: Indian captain Mahendra Singh Dhoni seemed resigned on Wednesday to being without injured fast bowler Zaheer Khan for the first Test against South Africa starting at SuperSport Park on Thursday.
Dhoni said the left-arm strike bowler was a doubtful starter because of a hamstring injury. If Zaheer does not make a rapid recovery, India will have to choose between two uncapped fast bowlers, Umesh Yadav and the left-armed Jaidev Unadkat. "We'll make a call tomorrow morning but as of now Zaheer is quite doubtful," said Dhoni.
"Whoever plays will be making his debut so we will have to see what the best combination is. We will have a discussion with the senior players and suit the best eleven that suits the conditions."
Dhoni acknowledged that the likely absence of Zaheer was a blow. "He has always led the bowling attack, whatever the conditions are, whether it's a flat wicket or a seaming track. He is one bowler who has always done well for us. But we have to see the longer picture. We are so close to the World Cup, a major injury to any of our best eleven players may have a big impact. If we are not 100 percent sure about the injury or his fitness we won't risk it."
Rain prevented both South Africa and India from practicing on Wednesday but, like his counterpart Graeme Smith, Dhoni said the major preparation had already been done and that only a light practice would have been held on the day before the game.
Although India did not have a warm-up match, Dhoni said he was happy with his team's preparation. "What is important is that in the time we have got we have made the best possible use of it."
Dhoni said the toss could give an advantage to the captain calling correctly. "We had a look at the pitch from a distance yesterday and it looked to be a bit damp. Without the sun, it will stay damp and the fast bowlers will get something out of it. If we win the toss it will be 60-40 in our favour."
The Indian captain said that being the number one Test team, playing against their nearest challengers, did not add unusual pressure on his team. "We are always under pressure," he said.
"That is something that goes hand in hand with being the Indian cricket team. It doesn't matter whether we are against Zimbabwe or any other side, we are always under pressure because the expectation levels back home are really high."
Asked whether he felt the focus on the current Ashes series between Australia and England was somewhat insulting to a battle between the two top-ranked teams, Dhoni took a philosophical view.
"When you talk about the Ashes it is a traditional rivalry. It is the same case when we play against Pakistan, the attention is on us. I think it is fair enough. What is important for us is to do well in the series."