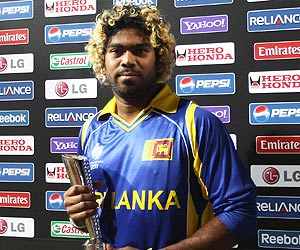 COLOMBO: Sri Lankan fast bowler Lasith Malinga said his hat-trick against South Africa in the 2007 World Cup was more satisfying than the one he claimed against Kenya here on Tuesday.
Malinga, playing his first match of the 2011 World Cup finished with a career best six for 38 as Sri Lanka crushed Kenya by nine wickets.
"I cherish my performance against South Africa where I got four wickets in four balls more. They needed something like four runs with five wickets remaining in that game and I got four wickets without conceding a run and that's against a very good side," Malinga said referring to the Super Eight game in the 2007 World Cup in Guyana.
South Africa were cruising at 206 for five chasing a target of 210 when Malinga removed Shaun Pollock, Andrew Hall, Jacques Kallis and Makhaya Ntini in four balls to bring Sri Lanka right back into the game.
In the end, the Proteas had won by one wicket.
On Tuesday, Malinga's victims were Tanmay Mishra, Peter Ongondo and Shem Ngoche with all three batsmen failing to deal with Malinga's toe-crushing yorkers.
"This one is special in the sense I got my best bowling effort in this game including a hat-trick. I am happy with that. Against Australia on Saturday I have to start it all over again and I am looking forward for the challenge.
"I watched a lot as of Wasim Akram and Waqar Younis those days. How they bowled with the older ball to devastating effect. I liked their style and I wanted emulate them bowling fast. Today the wicket here was a bit slow and I thought rather than bowling fast to bowl a few yorkers and that worked really well," Malinga said.
Sri Lanka rested Malinga from their opening two games saying that they were concerned to risk him as he was recovering from a back strain.
He said he could have played the last game against Pakistan, but opted out following medical advice.
"The physios felt that I could risk an injury had I played any of the previous games. They felt that if I pick up an injury, I could be ruled out for a longer period of time. Now that I am fully recovered, I am looking forward to play all matches of the World Cup."
Kenya were progressing nicely having reached 102 for two with the Obuya brothers, Collins and David, making half-centuries. But with the introduction of Malinga they collapsed.
Kenya captain Jimmy Kamande paid tribute to the way Malinga bowled.
"We were looking for 230, but things did not work out. We were in a good position for 35 overs, but then the damage happened. If the Obuyas could have been there till the end, things could have been different. We have seen Malinga before, he's a world-class bowler," Kamande said.