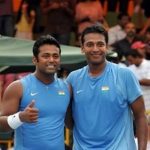 New Delhi: India's most successful and decorated pair of Leander Paes and Mahesh Bhupathi will again rekindle their romance with the tennis court after a long break from playing together. The duo had confirmed that they would team up for the Australian Open and Bhupathi has gone further and said that they would most likely play the entire 2011 tour together.
"We are looking forward to reuniting for the 2011 tour," Bhupathi told reporters while his partner added that "It all happened in just one meeting, and we are really looking forward to the Chennai Open and winning the elusive Australian Open together."
The pair is also going to pair up for the upcoming Chennai Open.
The duo has not played together much in the recent players as Paes has formed a new alliance with Lukas Dlouhy while Bhupathi partners with Max Mirnyi. Even after fallout a few years back, they teamed up and won their 23rd consecutive Davis Cup tie in September. Paes had then admitted that their partnership was indeed magical.