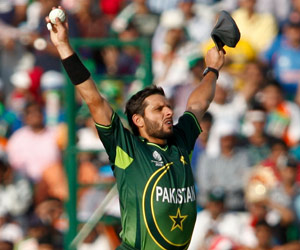 ISLAMABAD: Pakistan cricket team captain Shahid Afridi "was able to win millions of hearts across the border", a Pakistani daily said Friday, adding that his post-match speech and press conference was graceful and full of sportsman's spirit.
Pakistan was defeated Wednesday by India in the World Cup semifinal match held in Mohali that was witnessed by Prime Minister Yousuf Raza Gilani and his Indian counterpart Manmohan Singh. India will now play against Sri Lanka Saturday.
An editorial in the Daily Times Friday said: "Shahid Afridi, who rules the hearts of Pakistanis, was able to win millions of hearts across the border. His post-match speech and press conference was not just graceful and full of sportsman's spirit but his charm and wit bowled over many a heart.
"Afridi congratulated the Indian team and their nation. He did not need to do it but he also apologised to the Pakistani nation. `I want to say sorry to my nation. We tried our level best but could not make it,' said Afridi."
It said that the match between India and Pakistan "lived up to the cricketing hype. It was a match full of twists and turns".
Noting that Pakistani "fielding was perhaps the worst", it said: "While dropping catches and misfielding are a norm for our team, dropping four catches of an ace batsman like Sachin Tendulkar perhaps cost us the match".
"As far as the batting goes, our top and middle order failed yet again. The Indian team certainly played better cricket and thus came out as the winners of this crucial match. Their bowling was tight and they fielded extremely well."
The editorial observed that winning or losing is part and parcel of any game.
"What mattered was the spirit in which it was played. It was heartening to see the camaraderie between the Indians and the Pakistanis – on the field by our players and off it between the spectators."
"Despite our disappointment with the end result, it was taken in good spirit on both sides."
It went on to say that now that the World Cup is over for Pakistan, "we must start the process of rebuilding our cricket team in preparation for the impending revival of international cricket on our soil".
"Manmohan Singh has given the go ahead for the Indian team to visit Pakistan for a cricket series. This would truly be a welcome initiative. Cricket is a passion that unites Pakistan. Let's bring it back to our soil!," it added.