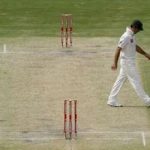 Melbourne: The Australian cricket team collapsed to defeat before what could have been a potentially Test-saving storm in Adelaide, but had little cover from the deluge of media criticism on Wednesday that greeted their 1-0 deficit to England in the Ashes series.
Tuesday`s crushing innings and 71-run loss in the second Test at Adelaide, the hosts` biggest in 24 years to arch-rivals England, brought a collective groan from local newspapers.
"Oh the horror," Melbourne tabloid, the Herald Sun, gasped in a headline, splashing pictures of captain Ricky Ponting`s furrowed brow.
"Beaten. Broken. Bereft of options. Australian cricket has not been in such a parlous state for two decades," the paper`s Will Swanton wrote.
"The team that lost to England will never play together again. It will be ripped apart like a Christmas turkey at a boarding house the next time the selectors meet."
Fairfax writer Richard Hinds took a more optimistic view about Australia`s chances of winning the series, but was referring to the one against Bangladesh next year rather than the Ashes.
"Indeed, the idea of Ricky Ponting and his demoralised battlers halting the English juggernaut is like putting a toothpick on the tracks in the hope of derailing a speeding bullet train."
"The final two days at Adelaide, we were assured, was when we would find out what this Australian team was made of.
"The results are not yet back from the lab, but it seems to be some sort of gooey, soft-centred material that melts rapidly when heat is applied, is easily removed from flat surfaces, does not bounce or spin and which stinks to high heaven."
Australia`s blunt attack has prompted a number of resigned journalists to call up Shane Warne to see whether the blond legspinner great might be tempted out of retirement for a last crack at "the Poms".
"Yes, yes, I know he`s 41. I know he`s caused more ugly tabloid headlines than Paris Hilton. I know he hasn`t bowled a ball in anger since April," wrote Peter Fitzsimons in the Sydney Morning Herald. "What is important is to save the Ashes and beat England."
The 41-year-old, who made a habit of terrorising England`s cricketers in an illustrious career, dodged the questions on a newspaper blog before tweeting that he was flying to England on business.
Tempers have also frayed on the sidelines of the Ashes, with former Australia captain Ian Chappell confirming he had "exchanged words" with former England skipper Ian Botham during the Adelaide Test.
"The rest is a fairytale," Chappell, who shares a mutual grudge with the Englishman dating back over 30 years, told the Age newspaper. "We were not at each other`s throats."
Another former Australian skipper Mark Taylor called for calm while defending Ponting`s captaincy.
"Australia don`t have the cattle at the moment. They`ve got to find a few. And (Ponting`s) got to try and remain as positive as he can… and be a bit more relaxed," said Taylor.
"It`s a game of cricket. The Australian cricket team and cricket teams in general play their best when they are relaxed."
"I`m not sure the Australian team is relaxed at the moment."