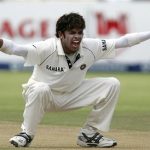 KOLKATA: Memories of a sparkling tour exactly four years ago still fresh in his mind, India medium pacer S Sreesanth is again travelling to South Africa with the belief that Mahendra Singh Dhoni's men have it in them to win a Test series there.
Before leaving for South Africa on Tuesday night, the 27-year-old said that in the last four years he had become more matured, restrained and focussed.
"People always ask me what is the difference between old and new Sreesanth. It's just the same… But I guess I'm more matured and focussed now, which is obvious. You get matured with age," Sreesanth said.
The hard and bouncy pitches of South Africa might have been India's nemesis, but Sreesanth strongly believes that this time there would be a turnaround.
"There is nothing difficult there. If it's difficult, it's possible as well (to win a series there). We love challenges and are really looking forward to the series. It's about taking one ball, one day at a time," he said.
As a 23-year-old, in his sixth Test appearance four years ago, he had produced his best bowling effort to pack off South Africa for a paltry 84 at the Wanderers, leading India to a famous win. The visitors, however, lost the remaining two Tests and returned home defeated.
His Wanderers performance – 5/40 in an innings and 8/99 in the match – till day remains his best-ever bowling effort. Thanks to that spell of fast bowling, India managed their first win in South Africa after 12 attempts.
Recalling the team's last tour of South Africa, the Kerala bowler said: "In the last series, I was about 23… I was full of energy as every youngster is."
Sreesanth also added that he was lucky to be a part of the No. 1 Test side, which boasts of some of the world's best cricketers.
"Every member of the side is a great motivator. I'm really lucky to be part of the side. There is Sachin paaji, Rahul Dravid, VVS (Laxman), Virender Sehwag, Mahendra Singh Dhoni, Gautam Gambhir, Harbhajan Singh, Zaheer Khan… There is something to learn from every one."
Asked if this was the best side ever, he said: "You people will be best to comment on that. But this is a brilliant side. We have all the ingredients for a win there."
Along with Harbhajan, he was also involved in a tenth-wicket partnership of 105 – India's highest against New Zealand and their third highest.
"I understand the game better now. My skill has got better both with the bat and the ball," he said.
He thanked the national selectors for bringing him back to the side. Sreesanth reposed the faith by bagging eight wickets in three Tests and seven wickets from two ODIs against New Zealand in the ongoing series.
"I'm really thankful to the selectors for having faith on my abilities. I will look to continue with my good work. It's always special to play for your country. God has been extremely kind to me. I'm really lucky and thankful."
A Tendulkar admirer, Sreesanth also hoped that the maestro notches up his 50th Test century in the first match of the series at Centurion from December 16-20.
"I wish Sachin paaji all the best wishes and sincerely hope that I will be there when he records the milestone."
"I'm always indebted to him for his support and motivation. He is always there for you, guiding you from behind."
The speedster also said India strike bowler Zaheer Khan had helped him in a big way as a youngster.
"I know him since my academy days as an Under-19 cricketer. I've always looked up to him and he always speaks to me, guiding me on and off."
Sreesanth further said he was not looking too far ahead. "I am taking one match at a time and not thinking so much ahead, about the World Cup."
Prior to the 2011 ICC Cricket World Cup, India will play three Tests, one Twenty20 and five-ODIs in South Africa.