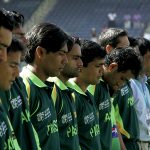 Pakistan's cricketers will be kept out of the upcoming edition of the Indian Premier League (IPL) because of a spot-fixing scandal that has dogged Pakistan cricket in recent months, sources said.
According to sources in the Pakistan Cricket Board (PCB), IPL organisers have decided against clearing the return of Pakistan's cricketers in the cash-rich Twenty20 league till the spot-fixing issue is resolved.
Pakistan's cricketers had featured in the inaugural edition of the IPL but were not allowed to play in the previous two competitions mainly because of strained relations between Pakistan and India.
Meanwhile, several leading Pakistani cricketers are disappointed at not being given a chance to play in the IPL.
"It's unfair because as top international cricketers we believe its our right to take part in such tournaments," said a Pakistan player, who requested anonymity.