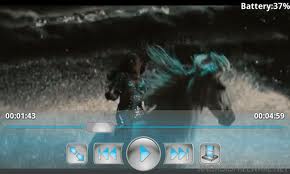 BSPlayer is media player for Android smartphones and tablet PC's, supporting hardware accelerated video decoding, automatic subtitle search and buffered network playback from SMB shares.
Main features:
– NO advertisements
– Android 4.2 Jelly Bean MR1 compatibility
– hardware accelerated video playback – significantly increases playback speed and reduces battery consumption, supporting multi-core (dual and quad-core) hardware decoding*
– audio pre-amplification ("volume boost" – user definable up to 500%)
– playback in popup window (audio and video)
– support for almost any media file type (video and audio), such as: avi, divx, flv, mkv, mov, mpg, mts, mp4, m4v, rmvb, wmv, 3gp, mp3… and streaming content such as RTMP, RTSP, MMS (tcp, http), HTTP Live stream, HTTP.
– aspect-ratio adjustments and zoom
– multiple audio streams and subtitles
– supports customizable gestures for Seek, Jump, Brightness and Volume control, exit to popup video
– playlist support and various playback modes.
– support for audio headsets and external Bluetooth keyboards
– customizable audio offset, playback speed, gestures and keys
– external and embedded subtitles ssa/ass, srt, sub, txt…
– Automatic subtitle search (mobile or Wi-Fi connection must be enabled to work)
– playback media files such as videos and mp3's directly via Wi-Fi from your network shared drives/folders (such as external USB drives, SMB shares, PC shared folders, NAS servers (Synology and others)) – no need to convert video files and copy media files to SD card
– Playback files directly from uncompressed RAR files
– Lock screen to prevent accidental change of videos (kid lock)
– support for USB OTG (On-The-Go)for example: Nexus media importer, USB OTG Helper, USB Host Controller… and much more!