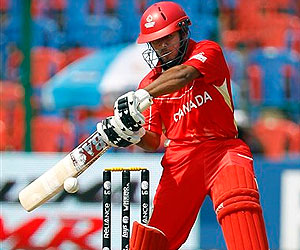 BANGALORE: Brett Lee was recently described by Ricky Ponting as the glue of Australia's pace attack — but even he came unstuck against 19-year-old Canadian Hiral Patel on Wednesday.
Lee, who began the match with an economy rate of 4.13, saw his first over clattered for 16 runs by the impudent Patel, playing only his second World Cup match.
Shaun Tait, the other opening bowler, fared little better and conceded 17 runs in two overs before he was quickly replaced by Mitchell Johnson — hardly the ideal start for the three-time defending champion Australians.
"He was savage," Ponting said. "The new ball swung a little bit and offered him a little bit of room and that was all he needed. He accepted the room and hit some amazing shots really."
As Patel took the attack to Australia in exhilerating fashion, the man at the other end was reduced to a bit part.
John Davison was responsible for one of Canada's greatest moments in cricket when he hammered a 67-ball century against West Indies in 2003 — at that stage, it was the fasted century ever in a World Cup. He followed that with quickfire half-centuries against New Zealand in 2003 and 2007.
Maybe he had given his young opening partner a few tips.
The 40-year-old Davison, playing his final international match, looked on as Patel's brute power and sweet timing had Australia on the back foot.
Patel cut Lee's first and third balls for four, and then drove beautifully through extra cover off a good-length delivery to make it three boundaries in the over.
Lee, Tait and Johnson were all the receiving end of sixes. Tait, in particular, will not forget in a hurry the way Patel rocked back and smashed a 148.5kph delivery over cover and into the stand.
Ponting compared Patel's style with that of India's Virender Sehwag, and said Patel's innings ought to be a warning to Australia.
"If we happen to let (Sehwag) get off to a start like that in a big game, then it's going to be a whole lot harder to peg them back," the Australia skipper said. "We probably didn't bowl as well as we needed to."
It took the medium pace of Shane Watson to finally put an end to a fabulously entertaining innings on 54 from 45 balls.
It was Patel's highest one-day score, beating a 43 against Afghanistan, and it came in only his second World Cup match after he scored a bright 31 on his debut in the competition against New Zealand on Sunday.
The teenager's innings helped Canada become the fastest team to get to 50 in the tournament, after 4.4 overs, but the rest of the batting order couldn't match Patel's brilliance.
Canada was all out for 211, and Shane Watson later exacted Australian revenge on Patel by crunching a six and three fours off his one and only over of bowling.