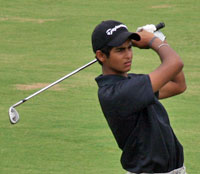 Bangalore: Local challengers Chikkarangappa and Trishul Chinnappa dominated day two of the All India Junior Golf Tour Final as they finished with total scores of 146 (75;71) and 147 (75;72) after 36 holes respectively at the Eagleton Golf Club here on Tuesday.
Chikkarangappa, playing on his home turf and also a favourite for the title, topped the table in Category A, closely followed by Trishul Chinnappa at second position.
Gurgaon golfer Ainesh Ahluwalia was placed third at the end of the second day with a closing score of 149.
Rigel Fernandes maintained his position in Category B with total score of 143 (72; 71). He is followed by Viraj Madappa 148 (76; 72) and Shubhankar Sharma 154 (76; 78) respectively.
Piyush Sangwan maintained lead in the Category C with total of 146 (72; 74). Prakhar Asawa 147 (73; 74) and Karandeep Kochhar 156 (76; 80) were second and third respectively.
On the opening day in Category D, Kshitij Kaul with score of 6 over 78 leads, followed by Digraj Gill (12 over 84) and Aadil Bedi (13 over 85) respectively.
In girls A&B Category, Delhi's Gurbani Singh led with score of 2 over 74. Meher Atwal and Vrishali Sinha tied at 4 over 76. Category C saw Seher Atwal with score of 6 over 78 at the top, followed by Ridhima Dilawari and Ankita Kedlaya with scores of 8 over 80 and 9 over 81 respectively.
The national final is the last and final leg of the Toyota Etios Junior and sub-Junior Tour.