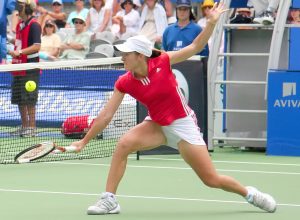 Former world No 1 Justine Henin admits she is probably six months away from recapturing her best form, as she prepares for her second Antipodean comeback in as many years.
The seven-times Grand Slam winner took almost two years off from tennis to grapple with her personal life before coming back at this year's Australian Open in January, amazingly reaching the final, where she was beaten by Serena Williams in three sets.
Just under 12 months on and this time Henin is preparing to return from a serious elbow injury that threatened to end her career for good.
The 28-year-old Belgian has not played competitively since injuring her right elbow in her fourth round loss to countrywoman Kim Clijsters at Wimbledon in June.
Now ranked 12th in the world, Henin will take her first steps in her latest return at the mixed teams Hopman Cup, starting in Perth on Saturday, ahead of the Australian Open in Melbourne.
Speaking in Perth today, Henin said she was a long way short of the fitness she needed to consistently win tournaments again.
"I hope I can build my condition this year by playing tournaments, and hope to be really ready around June-July, which would be great for me," she said.
"My elbow is getting better. It is six months since the injury and I can't say I am 100 per cent."
"I am working very hard on it and I spend two hours every day on my rehabilitation."
"Now step by step I can improve, but it will probably take a few more weeks and maybe months before I can be 100 per cent."
"I am not feeling free of all the pain, but I am going in the right direction."
Although she has not won a Grand Slam title since 2007 and does not expect to ever again reach the heights of that year, when she won both the French and US Opens, Henin believes she is still capable of adding to her tally, and would not totally rule herself out of contention in Melbourne.
"No one is dominating women's tennis, there are a lot of ups and downs, Serena is not going to be there so it is going to be wide open, but I don't consider myself one of the biggest favourites," she said of her Australian Open hopes.
"The expectation is to give my best, stay healthy and win as many matches as I can."
"First round is going to be important for me and then we'll see, step by step. Kim (Clijsters) proved it and I proved it, that a comeback can be a very nice thing."
Henin said she believed the round robin format of the Hopman Cup, with a guarantee of six matches, including the mixed doubles, was a perfect way to ease back into tennis ahead of the first Grand Slam of the season.