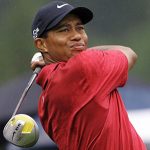 * McDowell caps golden year with fourth win
* Woods ends turbulent year without a victory (Adds detail, quotes)
THOUSAND OAKS, California Dec 5 (Reuters) – Tiger Woods's miserable year ended with more disappointment as he gave up a four-stroke lead and suffered a crushing playoff loss to Graeme McDowell in the Chevron World Challenge on Sunday.
It marked the first time that Woods, without a win since the 2009 Australian Open, lost a tournament in which he led by at least three strokes going into the final round at Sherwood Country Club.
Under pressure from U.S. Open champion McDowell, Woods let his grip on the lead slip in his own event with a double bogey on the 13th that the Northern Irishman birdied for a two-stroke lead.
But McDowell's advantage slipped away as he bogeyed twice to send the pair into the final hole on level terms.
Both players birdied, McDowell sinking a difficult 25-foot putt and then Woods keeping his nerve with a three-footer that sent the pair into a sudden-death playoff.
Returning to the 18th, McDowell hit a tree but had a decent lie and was able to find the green with his second and he again drained a putt from over 20 feet to leave Woods putting for a birdie to stay in the playoff.
"I fought hard today … it was close, we had a good battle again – I felt right, I was right there," said Woods.
Although the tournament is not officially part of the PGA Tour, it clearly meant a lot to Woods who celebrated his great second shot on the 18th in regulation with an aggressive fist pump of vintage variety.
There was also plenty at stake for McDowell who showed great poise to come out on top against the backdrop of a crowd clearly, and vocally, hoping to see Woods capture his first tournament win since his personal troubles began.
"Its just been an amazing year, I can't say enough about it," said McDowell, who triumphed in the U.S Open at Pebble Beach in June. "This is dream stuff, playing one of the greatest golfers who has ever played and to beat him like this, I'm just ecstatic."
Thirteen months ago, the golfing world was stunned when allegations of serial philandering emerged to leave Woods's private life in turmoil.
He took a self-imposed exile of five months from the game but, with his marriage breaking up, struggled for form on the course before ending his PGA Tour season without a single title for the first time since he turned professional in 1996.
England's Paul Casey finished third, four shots behind the top two while Northern Ireland's Rory McIlroy was a further shot back in fourth. (Reporting by Simon Evans in Miami; Editing by Frank Pingue; To query or comment on this story email [email protected])