SAO PAULO: Brazil's soccer icon Ronaldo Nazario, shed a few tears as he announced his retirement citing "some important reasons", which include his interminable injuries and problems caused by hypothyroidism.
"Today I come to say that I'm closing my career as a professional player.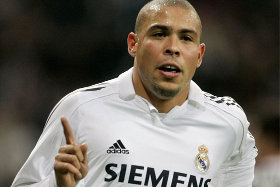 It was a beautiful, wonderful, emotional career. I had a lot of defeats, a lot of victories, I made many friends and I don't remember making any enemies," the 34-year-old striker told a press conference in Sao Paulo Monday.
"It's very hard to say goodbye to something that made me so happy, that I loved so much and with which I wanted to continue, because psychologically I really want to, but I have to accept some losses. I lost for my body's sake," said Ronaldo, the three-time winner of the world's best soccer player award.
Accompanied by his two children, Alex and Ronald, and the president of his current club Corinthians, Andres Sanchez, the man who helped lead Brazil to two World Cup championships said that his history of injuries is public knowledge.
"Everyone knows my history of injuries: if it wasn't one leg it was the other, if it wasn't one muscle it was another…and these pains made me end my career sooner than I would have liked," he said.
Ronaldo said that problems caused by the hypothyroidism that was diagnosed four years ago and that he always kept secret was also a consideration in his decision.
"Four years ago when I was with Milan, I found out I was suffering from hypothyroidism, an ailment that slows the metabolism, and I knew that to control it I had to take some hormones that are banned in soccer," he said.
"A lot of people should regret now that they made so much fun of my weight, but I'm not mad at anyone," the footballer, who played for clubs such as Barcelona, Real Madrid, Inter Milan and AC Milan said, referring to the criticism for his weight.
He said his future is already decided and that he will divide it between a sports promotion agency and a soon-to-be-established charitable foundation.