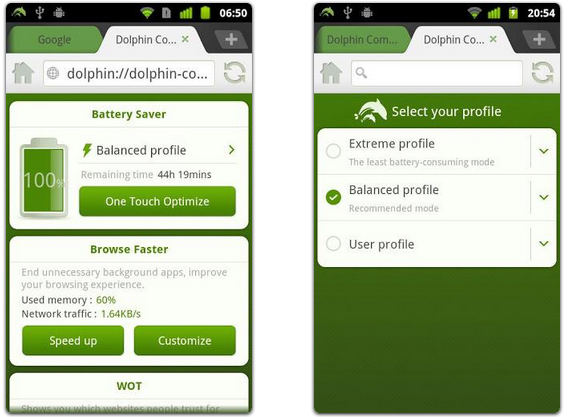 Not only saves battery, but also makes the browsing faster and protects browsing security!"
Optimize your Dolphin Browser by easily saving battery, browsing faster all while protect browsing security.
Key Features:
Battery saver: Save power and extend your smartphone's battery life with "ONE CLICK OPTIMIZE"
Browse faster: Improve your browsing speed by ending unnecessary background apps.
Security manager: Protect your browsing security, by getting a warning when on a website with untrusted WOT ratings. Also shows you the security info (WOT ratings) of each page.
What is an Add-on?
Beef up your Dolphin Browser(Formerly Dolphin Browser HD) by installing your favorite Add-ons. Similar to a desktop Plug-in, each Add-on will provides additional functionality on mobile device. Forgot password? Password Manager can help. Want a new look for your Dolphin? Download Shiny Shake to change colors. Want to read a webpage in French? Get Dolphin Translate. Click here to learn more: http://bit.ly/AndroidAdd-onList
The fine print: Dolphin Battery Saver is only compatible with Dolphin Browser HD v7.2 and higher.
CURRENT VERSION: 3.1.0
REQUIRES ANDROID: 1.6 and up