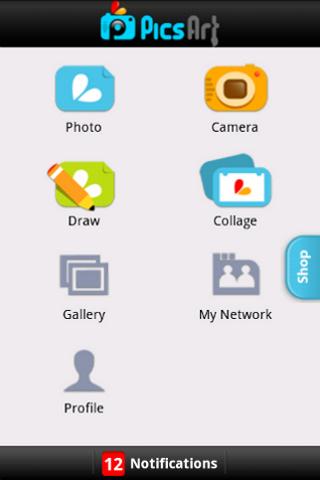 When anyone thinks of editing a photo, whether to retouch it or to add special effects, the first name that comes to mind is Adobe Photoshop. But while the desktop version is a powerful and popular industry standard, the mobile version does not live up to the same standard, in my opinion.
Don't get frustrated; you will get what you need. PicsArt is a mobile app with abundant photoshop-style features that you'll want to try out.
PicsArt Photo Studio is a free Photo Editing Tool available for the Android Devices running Android 1.6 or above. Despite being free, it bundles a lot of features that even some premium apps lack. With a great user experience on top of all that, this app is a great choice for photo addicts.
Interface
The interface is simple, preferring icons over text menus; you'll get to know where everything is in no time.
PicsArt is a free photo editor, photo grid and collage maker, drawing tool and picture art network. It is like an all-in-one collection of multiple editors:
PicsArt Collage Maker allows to create amazing collages, using photo grid, free form collage maker, or using photos on backgrounds. It is one of the most powerful photo grid and free-form collage making tools on the market.
PicsArt Photo Editor provides tons of photo manipulations, masks, collages, frames, borders, stickers, text effects, clipart graphics, callouts, crop, rotate, color adjust and more!
PicsArt Effects are awesome artistic photo effects such as a stenciler, cartoonizer, sketcher, Orton, Lomo, vintage, cross process, HDR, fattal, pencil, Holgaart, watercolor, contours, comic, neon, gouache, old paper, pastel, red eye remover, Popart, mirror, smart blur, face fix, color splash, paper effect and more! It allows you to apply effects to picture using brush mode, when artists can control where and how much of the effect to apply to an image.
Photo Editor provides multiple image masks, text tools, cliparts, lens flare, frames and stencils to artists and graphic designers. Both novice and professional graphic designers are using PicsArt for work and fun!
PicsArt Photo Camera enables you to take a picture, preview and apply photo live effects by enhancing your standard camera.
PicsArt Drawing Tool provides fantastic image drawing features including: draw, sticker mode, callouts, artistic brushes, layers and text styles! You can make fun pictures drawing on your Facebook friend's photos! PicsArt Draw includes layers and the ability to hide, rearrange order, or merge image layers.
The new PicsArt DrawCam feature allows you to combine live camera with drawing, photo editing and layers.