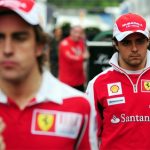 London: Formula One has lifted a ban on the so-called "team orders" which caused a huge controversy at the German Grand Prix this year when Ferrari used them to allow Fernando Alonso to win.
The decision, announced by the International Automobile Federation (FIA) on Friday, will dismay some fans while others will feel such tactics have always been part of the sport and should be recognised.
The FIA did warn, however, that blatant action early in the season could still be punished.
"Teams will be reminded that any actions liable to bring the sport into disrepute are dealt with under Article 151c of the International Sporting Code and any other relevant provisions," the body said in a statement.
FIA also announced that Formula One will switch to "greener" 1.6 litre turbocharged engines from 2013 while in a major revamp of the technical and sporting rules drivers will also be allowed to use a moveable rear wing next season.
The widely anticipated new engine rules were the most far-reaching development in line with the FIA's determination to make the sport more environmentally friendly.
The current cars are powered by 2.4 litre V8 engines, themselves down from the fuel-guzzling 3.0 litre V10s and V12s of previous generations.
The FIA, whose World Motor Sport Council met in Monaco, said that the new specification engine would underline a "commitment to improving sustainability and addressing the needs of the automotive industry.