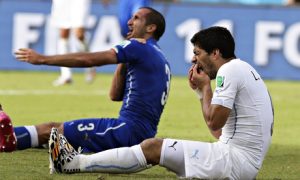 Uruguay beat Italy 1-0 in Natal thanks to Diego Godin's late goal to seal their place in the last 16 and eliminate Italy, but the match was overshadowed by an incident a few minutes earlier when Suarez appeared to bite Chiellini.
Chiellini tried to show referee Marco Rodriguez the mark but no action was taken, and he believes the authorities must now look back at what happened and punish Suarez.
He told Sky Italia: "Suarez has bitten me and the referee saw it, but then there is the need to have the courage to take decisions.
"We will see if there is the courage to utilise the TV images to ban him."
Claudio Marchisio was also sent off for Italy following a studs-up challenge on Egidio Arevalo Rios on 59 minutes, and Chiellini was furious with the performance of the referee.
He said: "It's a shame. Today's game has been decided by the referee. We take our responsibilities, but the referee has been bad.
"Marchisio's red card and the failed one for Luis Suarez, decided the game.
"While it was 11 v 11 Uruguay were never dangerous. Before Marchisio's red card, we had good ball possession, then, with ten men, we suffered."
Italy head coach Cesare Prandelli also hit out at the referee, saying: "It didn't seem to me a match of red cards.
"There had not been hard fouls and it was a balanced game. They have never shot towards our net, and they had to win.
"In my opinion the referee ruined the match. The red card for Marchisio was not right."
Prandelli felt it was the 1-0 defeat by Costa Rica last Friday which ultimately cost his side a place in the last 16, having begun their campaign with a 2-1 win over England.
Asked where Italy went wrong, he said: "Surely the match against Costa Rica. Uruguay has the world's two world's greatest strikers and they have not touched the ball.
"I say that in a World Cup a referee can't use a red card so easily."