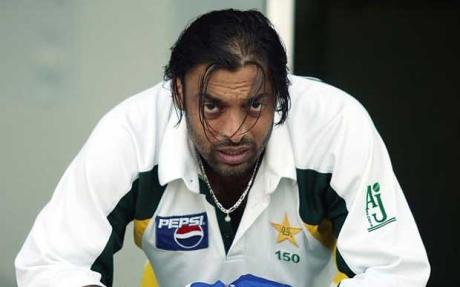 Fast bowler Shoaib Akhtar, who recently made a return to Pakistan squad against South Africa after almost two years' gap, said he has not dropped his pace and is looking to play a match-winner's role for Pakistan in the World Cup February-April.
Shoaib, who was once discarded as a spent force, said he can still bowl at 150 kmph.
Shoaib said Wednesday he has modified his run-up and is feeling comfortable even after bowling longer spells.
'I have shortened my run-up but am still bowling at almost 150 kmph. It would have been great for my career had I modified my run-up 10 years ago,' said the 35-year-old from Rawalpindi.
'But I am still bowling well and am confident of playing a match-winner's role in the World Cup and will try to make it a memorable event for Pakistan,' said Shoaib, who took three wickets in three overs in the Twenty20 match against New Zealand at Auckland Sunday.
Akhtar said that he wants to make a difference for Pakistan, currently experiencing a cricketing turmoil because of spot-fixing allegations against some of the country's top players.
'I'm always an optimist when it comes to my fitness, I just want to make a difference and lead this team to some good results,' said Akhtar, who is currently in New Zealand with the Pakistan team.
'We are going to win matches and show respect and show the world we are honourable people,' he said.