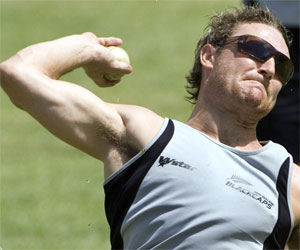 New Zealand Cricket (NZC) on Tuesday provided an update on Brendon McCullum's back injury following a recently completed fitness test.
Speaking on behalf of the National Selection Panel Glenn Turner said, "Brendon got through the fitness test well and we are pleased with the progress he has made.
"Although the signs are good the selection panel think the sensible approach is to rest Brendon for the final Twenty20 International against Pakistan.
"This is in view of the heavy workload Brendon will shoulder in the upcoming Test and ODI series we believe the extra rest will be of benefit in the longer term."
The final playing eleven for the third Twenty20 in the series between the BLACKCAPS and Pakistan will be selected on Thursday and announced half an hour before the match