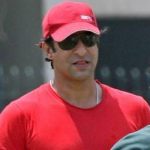 India are playing too much cricket resulting in injuries to their pacers and that could hurt the team's chances in next year's ICC Cricket World Cup on the subcontinent, feels former Pakistan captain Wasim Akram.
Akram said the upcoming South African tour just before the World Cup in February has been ill-timed and will only exhaust the Indian players.
"I have been keenly following Indian cricket for a while and I can safely say that they are playing too much cricket. Making a balanced cricketing calendar has been a problem with the Indian Board in the last five-six years.
"There is a serious overkill. India play too many matches round the year and no wonder their fast bowlers are getting injured far too often," said Akram.
"I will beg to differ with Imran Khan's views on India's upcoming tour of South Africa. Imran has said a tough tour of South Africa ahead of the World Cup will stand India in good stead. Not really.
"No matter how good the players' form is, the South Africa series will end just a couple of weeks before the World Cup and that is little too close. Although, they may not be tired physically but it will certainly take a mental toll on Indian cricketers. Such a long tour is quite tiring and there is a great risk of injuries," the legendary pacer told ESPNStar.com
India's South Africa tour will start on December 16 and involves three Tests, a Twenty20 and five ODIs.
Commenting upon India's 5-0 win over New Zealand in the just-concluded ODI series at home, Akram said the result has once again proved India's might in world cricket.
"The 5-0 clean sweep against New Zealand does not say that New Zealand were a weak side but the result clearly indicates India have a strong bench strength. Even after resting the seniors before the South African tour, India easily outplayed the Kiwis in the Tests and ODIs.
"The Black Caps are no pushovers in the limited-over format and to beat them convincingly, speaks volumes about India's young guns. Players like Virat Kohli and Yusuf Pathan rose to the challenge at crucial junctures to help Gautam Gambhir lead an inspired show in the ODIs," said Akram.
The veteran cricketer said the series win, in the absence of seniors, would have certainly helped the youngsters gain self-belief against tough sides in the cricketing world.
"The series has certainly helped Team India get their confidence shoot up by miles. The youngsters would have gained tremendous self-belief of performing well even in the absence of Sachin Tendulkar, Virender Sehwag, Harbhajan Singh and Zaheer Khan," Akram said.
The 44-year-old former skipper again rated India as one of the favourites to lift the coveted World Cup trophy.
"I have already named India as the favourites for the upcoming World Cup in my previous columns. I want to reiterate the fact that Dhoni's boys will certainly be rated very highly on present form and in favourable conditions as well.
"India have gelled together as a unit and are looking to be the most confident team. In the last three World Cups, Australia were the clear favourites and it is after a long time that they are not being counted in the title race," he said.
Akram also added that his country Pakistan may not be favourites to lift the trophy but will be a dangerous team nonetheless. "Nobody knows how Pakistan are going to perform on their day. So it's one of those teams which is fearless and that makes Pakistan dangerous. The absence of Mohammad Aamer and Mohammad Asif in the World Cup squad will certainly hit Pakistan badly. They are talented bowlers and can wreck any batting lineup on their day.
"The ICC's decision on their future in the spot-fixing saga will be eagerly awaited in Pakistan. I think the ICC should decide their fate soon in order to help Pakistan get their squad ready well in advance," said Akram.
On India's search for the fifth bowler, Akram backed lanky pacer Ishant Sharma for the job.
"As far as India's hunt for the fifth bowler goes, I would like to back Ishant Sharma for the job. I will always want to invest on a player who is going to be around for a long while. And according to me, Ishant is only 22 and very eager to perform. Ishant has had a lean patch but is back in contention. The Indian think-tank should back him to the hilt," he said.