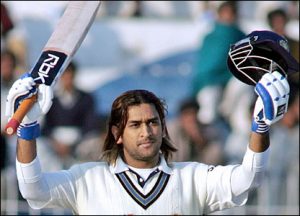 India captain Mahendra Singh Dhoni said Thursday it was an interesting contest as the visitors came from a game down to draw the Test series for the first time in South Africa.
'It was an interesting series. We are quite used to coming from behind; we never do well in the first Test. The bowlers did the job. Here too they tried their best but we couldn't take the last few wickets. If you look at the Kookaburra ball, it becomes difficult with the old ball. Our bowlers are skill bowlers – not pace. Kallis proved difficult to get out. Overall, in the series, it was good to see the effort put in by the fast bowlers. Harbhajan did well through the series,' said Dhoni, after the third and the final Test here ended in a draw.
South African captain Graeme Smith also admitted that it was a keenly contested series between the two top Test sides of the world.
'It was a terrific series. It was very competitive. Every session was competitive. Last few series between us have been even. It shows that our teams are even. Jacques (Kallis) and (Sachin) Tendulkar are terrific players and showed it on this wicket. Jacques is an inspiration to all of us,' said Smith.
Smith refused to comment on the positives, but he was happy to see the performance of pace spearhead Dale Steyn, who was the highest wicket taker with 21 scalps.
'The positives – I don't want to pick anything out but it was nice to see Steyn… As a team we managed to compete well with the best team in the world. We would like to play India more. Every day is unpredictable and competitive. Thats what the fans to watch – some exciting cricket. I would like to thank the fans for all the support. It makes a difference to see people come out to watch us,' he said.