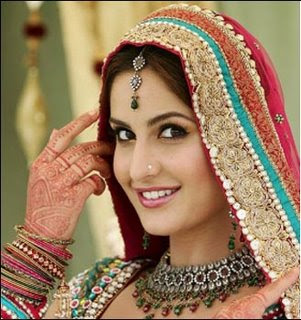 After raunchy item numbers, Bollywood actresses seem to be enamoured with 'lavani', a Maharashtrian folk dance and are leaving no stone unturned to emerge as the 'lavani queen' of the B-town.
As Katrina Kaif's Chikni Chameli and Vidya Balan's Mala Jau De dance numbers got rave reviews for their folk dance performances, Rani Mukherjee is the latest addition to this list. In her upcoming film Aiyaa, the leading lady of the film– Rani Mukherjee does three item numbers in her dream and lavani is one of that. Rani plays the role of a Marathi girl in the film and is paired opposite southern star Prithvi Raj.
Directed by Sachin Kundalkar, 'Aiyaa' is co-produced by Anurag Kashyap and Viacom 18 is slated to release in October end this year.
Lavani has been a hit with dancing divas like Helen, who gave an unforgettable performance in Mungla song in Inkaar (1977), Madhuri Dixit's Humko Aajkal Hai from Sailaab (1990), Main Kolhapur Se Aayi Hoon from Anjaam (1994).
After Madhuri Dixit's lavani performance, this dance form had more or less disappeared from Bollywood, only to make a comeback in Karan Johar's remake Agneepath.
British Indian actress Katrina, through her foot-thumping Chikni Chameli performance proved that she can also be a desi Marathi girl.
"It (Chikni Chameli) was very fast and it was not a style I was used to, but I took it as a challenge. I worked very hard for this song," Katrina had said.
Ace choreographer Ganesh Acharya, who had directed Katrina's moves in the song, says, "Katrina has given all the power and dedication that was needed. I think only she could have done a song like Chikni Chameli and nobody else."
In Vidhu Vinod Chopra's home production, Vidya Balan danced to a lavani, her first such special number in Ferrari Ki Sawaari. While doing this song, Vidya had looked up to noted actresses Madhuri Dixit and late Smita Patil for inspiration.
"For the lavani song my inspiration is Madhuri. I liked her song Humko Aaj Kal and I also admire Smita Patil's performance in Bhoomika," Vidya had said.
Vidya practised hard for this song to perfect her steps for the dance form. "I was happy when this song was offered to me. It was always my dream to do a lavani song. I am not a trained dancer…I had to put in a lot of effort," she said.
Apart from Bollywood beauties, an American dancer is likely to be seen doing the Maharashtrian folk dance. The winner of US TV show, So You Think You Can Dance, Lauren Gottlieb is likely to be seen doing a lavani number in Remo D'Souza's 3D Dance film AnyBody Can Dance (ABCD).
However, Sachin Kundalkar feels despite such hullaballoo about lavani songs in Bollywood, there isn't a distinctive song that has been churned out well since many years.
"Lavani song is not all about dance. It is about composition, beats…and everything should be there. I don't feel there is any real…true lavani song that I have seen in Bollywood off late," Kundalkar said.
"We have a lavani song in your film Aiyaa picturised on Rani. We have maintained all the typical elements of a lavani dance form in this song," he said.