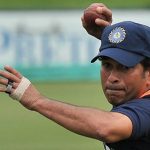 Centurion: Despite standing on the threshhold of history, champion batsman Sachin Tendulkar seemed unfazed by the media attention and the anticipation around his 50th Test century.
"I believe it is destiny. When it is destined to happen it will happen. I am not thinking too much about it. My focus is on preparation," Tendulkar said.
Should he score a ton in the three-match Test series against South Africa beginning tomorrow, the iconic batsman from India would become the first man in the history of Test cricket to get to the coveted landmark.
Tendulkar, however, preferred to focus on the match and not personal landmarks.
"For me one thing is very important and that is to get acclimatized to local weather conditions," Tendulkar said as world number one India prepare to face second best South Africa.
"Preparations have been spot on and the lengthy practice session has given us that opportunity (to get acclimatized).
"We have had good net sessions under the guidance of coach Gary (Kirsten)," he said.
Tendulkar pointed out that like India, South Africa will also have their task cut out as the series heralds the beginning of the season for the Proteas.
"In South Africa, players and critics always talk about getting used to pace and bounce of wickets here. For them this is going to be the start of the season, so wickets are going to be a lot fresher," Tendulkar said.
Talking about conditions in the Rainbow nation, Tendulkar said that one has to be extra careful in a high-altitude belt like Johannesburg.
"While playing in Johannesburg you have to be extra careful. That is in high altitude area, so supply of oxygen is a bit of a problem," he said.
Asked how difficult it is to get used to foreign conditions, Tendulkar explained: "When tour starts and we step on the cricket field for the first time we normally start running. While completing first lap one can easily feel that the body is not getting enough oxygen.
"Once you get used to that kind of conditions then there is no problem."
South African captain Graeme Smith, who had earlier described Tendulkar as a "great ambassador of the game", also hoped that the master batsman completed the landmark, though not against his team.
"Sachin is a great player and a great ambassador for the game of cricket. I too wish that he gets his 50th Test hundred; not in this series but in the next series," Smith said.
India couldn't pactice outdoors on the eve of the first Test due to unseasonal rain, but skipper Mahendra Singh Dhoni was unperturbed.
"Our last two practice sessions were quite intense so on Wednesday's lack of practice will not affect much," Dhoni said.